10 Ways To Get Rid Of Dandruff Permanently Fast And Naturally
Having to deal with an itchy scalp is bad enough, but when you have dandruff the embarrassment is the worst thing you have to deal with. Who wants to live their life feeling self-conscious about the reason people are staring at their head? Are they even staring at your head, or are you only imagining it?
Either way, the only solution is to get rid of dandruff permanently fast, so you can finally forget about it forever. We're going to look at some of the best natural techniques you can implement straight away.
1.) Get Out In The Sun
Nothing can be more natural than spending time out in the sun, but you have to take precautions to stay safe. Although the exact reason why sunlight works isn't well-known, it's thought the sun will help to dry up any oil you have sitting on your scalp. Make sure you spend at least 15 minutes outside every day, and you also need to follow this advice in winter even if it's cold outside.
2.) Eat A Healthy Balanced Diet
It always appears on every list, but a good diet is one of the best dandruff remedies because it's so easy to follow. You don't have to drastically change your diet if you want to keep bad dandruff at bay, but you do need to include a few things you might not be eating enough of at the moment. Oily fish and green vegetables should always be a staple of any anti-dandruff diet, plus including more lean protein will help too.
3.) Get Out The Baking Soda
We have to mention baking soda because it's already known to have as many uses as duct tape, but we also know minimalists use it instead of shampoo. One teaspoon of baking soda mixed in with a cup of water will flush the dandruff out of your hair, as opposed to only breaking it down into smaller pieces. It will also exfoliate your scalp, plus it can kill fungus to stop dandruff from appearing.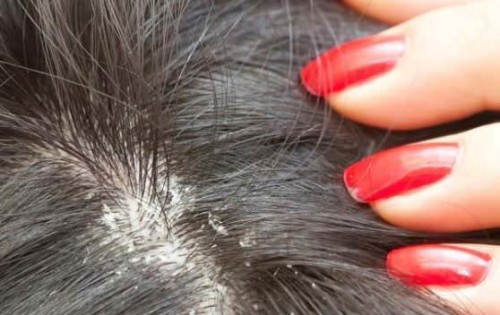 4.) Buy Plenty Of Lemons
We've already talked about the sun being beneficial, and you might know some people who rub lemon juice into their hair before going outside to lighten it up naturally. Lemon juice can also be a great tool for bad dandruff because of the acidity, which will eliminate any fungus before it can leave your scalp in a mess. As an added bonus, a little juice from a lemon will also help your hair to smell fresh.
5.) Scrub Your Hair With Saltwater
People who live next to the ocean tend to have less problems with dandruff, and even though they spend more time outdoors the thing helping them so much is salt. The salt naturally exfoliates the scalp, so it gets rid of the excess oil at the same time as clearing all those dead flakes of skin away. Luckily you don't need to move to the ocean, and instead you can always just wash your hair in saltwater.
6.) A Bottle Of Apple Cider Vinegar
Apple cider vinegar doesn't have as many uses as baking soda, but as far as dandruff remedies go they're both neck and neck. It has the power to change the pH of your scalp, and if you have bad dandruff it's a good thing because it will stop yeast from festering away. You can pour some apple cider vinegar into a spray bottle with water, then just give your scalp a few sprays 30 minutes before jumping in the shower.
7.) Garlic And Honey Concoction
I know what you're thinking, so let's just ease your mind straight away. The honey is only included in this concoction to prevent your scalp from smelling like garlic. Maybe you don't know much about the properties of garlic, but it's such an amazing antimicrobial food. It will kill the bacteria of your scalp, so rub some crushed garlic and honey onto your head a little while before you wash your hair.
8.) Soak Your Head In Olive Oil
It's a staple of the Mediterranean diet, but olive oil has more uses than keeping your heart healthy and prolonging your life. If you have a dry scalp about to flake into lots of little pieces, soaking your head in olive oil will instantly moisten the area up. Just remember to wear a shower cap over your head when you go to sleep, and only use enough drops of oil to cover your scalp.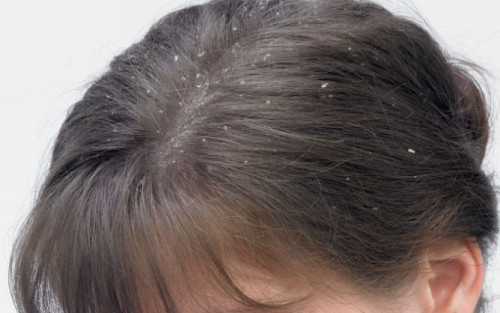 9.) Brush Your Hair Once You've Shampooed
When you wash your hair in the morning you'll brush it before you leave the house, but that doesn't mean you can afford to forget about it at night. You will still need to brush your hair in order to distribute the oil that occurs naturally on your scalp, and failure to do so will let it build up in the same place causing problems further down the line.
10.) Try To Chill Out More Often
The last thing we're going to discuss is stress, because everyone suffers from it every day. This might vary depending on your current situation and it's not going to cause dandruff on its own, but it's certainly going to make it worse if you're always feeling stressed out. To permanently eliminate dandruff from your life it would help a lot if you could lower your stress levels indefinitely.
Useful Tips To Remember
Coconut oil can also be used to eliminate bad dandruff, but we've not mentioned it for a particular reason. It's already found in certain shampoos, so you could use one of those instead of applying coconut oil on its own to save time.
It's a myth you should avoid excessive shampooing if you want to get rid of dandruff fast, but you should avoid using shampoos with lots of chemicals. If you shampoo often with harsh chemicals it will dry your scalp out a lot quicker.
Anti-dandruff shampoo is great, and you should try to find one that works for you if you want to rid yourself of dandruff permanently. Just make sure you're actually giving it time to work so you don't end up with false results, which means letting it soak into your scalp for 20 minutes before washing it out.
Using A Mixture Of Different Things
Try to remember most of the things we've talked about today will work, but you don't need to use them all if you want to get rid of dandruff permanently fast. You should get out in the sun, improve your diet, always brush your hair, and reduce your stress levels. Along with those and an anti-dandruff shampoo of your choice, you can test out some of the more unusual things to find out what works best for you.