10 Ways To Get Rid Of A Stiff Neck Fast
Stiff neck is not a serious medical issue but it is very common. Mainly this happens due to some daily activities if done wrongly. It can happen due to wrong sleeping pattern, sitting in an incorrect posture, continuously looking down to work on laptop or check mobile phones. One of the main causes of a stiff neck is in the way you sleep. Maybe you sleep on your side but don't have the best mattress for side sleepers and it's causing you pain. Or maybe your pillows are too high and it's causing you to sleep at an unnatural angle. You spend 6-8 hours a day sleeping so you can see why sleeping incorrectly can be an issue.
But there are some great ways to get rid of a stiff neck fast with just some home remedies. You can get a cure easily if you try out these methods regularly. Here are those top 10 ways to cure your stiff neck.
1. Hot And Cold Application
Cold helps to relieve the pain in your neck and also to ease the stiffness. This cold application limits the buildup of the lactic acid in your neck. It also numbs the pain and helps to decrease the soreness. So, try some ice cubes on the affected area. After you have done this, then apply some heat. It helps to compress and tighten the neck muscles. Thus, you have to apply the cold application and then the warm one. Wrap a warm towel round the neck. It will also help to increase the circulation of blood to the muscles.
2. Natural Balm
You can prepare a natural balm at your home. Apply this balm on your neck to give immediate relief to your neck. This will help the muscle to soothe or calm down. If the muscles are relaxed then it gives a lot of relief. To prepare this balm you have to take 2 tbsp of coconut oil and melt it. Then take a tbsp of beeswax and heat it in medium heat. Mix the two! And now pour 5 drops of eucalyptus oil and peppermint oil each. Let it cool down for 5 to 10 minutes. Then apply this to the affected area over the neck. It will give a cooling and heating sensation. Apply this at least twice a day. If the natural route is something you would like to stick with, you may be interested in the Best Topicals for Muscle Relief that combine Emu Oil with Hemp CBD. Consult with your primary care physician first to see if using this treatment is viable for you.
3. Turmeric
Turmeric is a great ingredient which is full of medicinal values. It has completely natural healing properties that can provide stiff neck relief instantly. You need to make a paste of this by mixing turmeric and water (or even coconut oil). Then apply that paste on the affected area over your neck. Repeat this twice everyday to get a faster relief from this pain.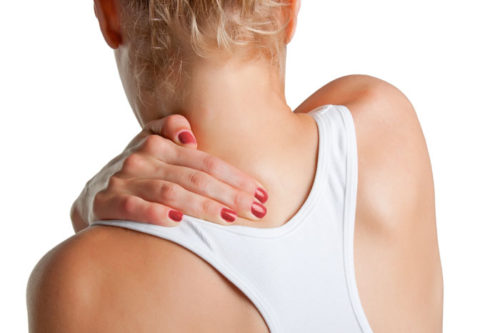 4. Menthol Herb And Camphor
Another great way to get rid of this neck stiffness fast is the application of menthol herbs. Menthol is a kind of herb that provides instant cooling effect on the area where it has been applied. So, if you apply it on the affected area it will provide cooling effect instantly. Thus, it will help you to relieve the pain from your neck. Even camphor is a great ingredient to reduce the swelling. It also increase the blood circulation by warming up the affected area.
5. Do The Stretching
When you get sudden stiff neck, the best way to get an instant relief from is to stretch. For this you do not have to do much workout. Just nod you head from forward to backward and vice versa gently. Make sure the muscles are getting stretched. Do it 10 times and then nod the head sideways from left to right and again right to left. Repeat this 10 times also.
6. Epsom Salt Bath
Another natural way to treat a stiff neck is by taking a bath in Epsom salt mixed in the warm water. Epsom salts are also called magnesium sulphate which is great to treat muscle pains. It can improve the soreness and inflammation of muscles. So, when you get stiff neck take regular bath in Epsom salt and warm water. Those looking to try other products that can help provide a natural solution to relieving inflammation and pain may want to consider something like bubble hash canada. Many people have reservations about trying such a thing but the stigma is diminishing and the law has changed in favor of those who would like to leverage its many beneficial properties for the sake of their health.
7. Warm Olive Oil/Coconut Oil
One of the best stiff neck remedies is applying warm coconut oil or olive oil. Both of these oils are natural antioxidants and have some great healing properties. Before applying these oils on the affected area, make sure to warm them. Warm olive oil or coconut oil can help the muscle to relax and improve the circulation of blood as well. Repeat it once at least daily to get rid of the stiff neck quickly.
8. Accupressure
It is one of the traditional Chinese ways to get rid of pains. In this case, pressure is given at certain points to improve the blood circulation. You can try this natural way to get rid of the stiff neck. This works quite fast giving instant relief. But make sure to go to an expert for this. Wrong process can only worsen the pain.
9. Apple Cider Vinegar
Apple cider vinegar has some excellent healing properties which help to fight against the soreness and inflammation. So, if you apply this on the affected area then it will give fast relief from the stiff neck.
10. Massage
One of the best ways to get rid of stiff neck and headache is to do massage. Make sure that you are massaging gently on your neck and head with your fingers and palm. Massage slowly and gently. Even you can use the natural balm (as mentioned in #2 method) or even warm olive oil during massage. You can also opt for an expert to give you a proper massage on your neck. This give a great relief to the pain and also reduce the inflammation.
Some Of The Important Tips
Here are some of the important tips for you to remember:
Do not do any intense physical activities such as weight lift, intense workout etc during this time.
If you are do not know how to massage, then get it from an expert professional. He/she can do in the right way giving you instant relief.
Do not carry heavy bags or any weight till it is completely cured.
If the stiff neck has been caused due to improper sleeping pattern, then improve your sleeping position and pattern.
If needed go for special care i.e. consulting a health physician. Often the pain gets unbearable. It is better to consult a doctor then.
These are some of the great and best stiff neck remedies that you can try at home and get relief fast.