6 Ways To Get Rid Of Upper Lip Hair
Mustache is a sign of masculinity. However, at the same time if a woman has hair in her upper lip, it certainly is a cause of concern. Hence if there are women who suffer from this abnormality, the next few lines could be interesting and informative.
Though there could be painful and expensive ways to get rid of upper lip hair we will try and have a look at six ways by which it is possible to get rid of unwanted hair in the upper lip. We are sure these are proven and time tested ways and therefore result oriented. If they are followed properly and continued for the required period of time, it could help a lot.
1. Mix of Turmeric Power And Milk
A well made mixture of milk and turmeric powder is perhaps one of the easiest and reliable ways to remove upper lip hair. Take a few spoonfuls of milk (around eight or nine spoons) and mix a small quantity of turmeric in it. The mixture has to be applied on the upper lip area and left to dry for around ten to fifteen minutes. It should be then washed clean. If the process is continued for around one to two months, you can start seeing the results.
2. Plain And Simple Turmeric
The other common option which is used in many south-east Asian countries is to use fresh turmeric which is pure and free from adulteration. The turmeric should be in the form of paste or powder. If it is powder it should be mixed with water and applied on the upper lip area. As mentioned above, the turmeric paste should be allowed to dry and take effect internally in the upper lip area. It should be washed and the process should be continued for around one month. The hair growth will ultimately stop and continuation may not be necessary.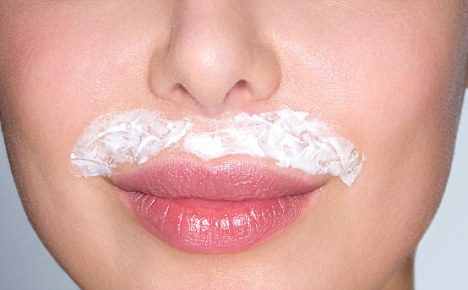 3. Mixture Of Lemon Sugar and Water
A simple method of upper lip hair removal is to have a mixture of lemon, water and sugar. The mixture has to be applied in the affected area and left to dry for around fifteen to twenty minutes. It has to be continued for around 30 to 45 days and it will certainly help in removing those unwanted hair from the upper lip area. It is safe and the application should be around two to three times a day to have the desired impact. It would be advisable to boil the water and bring it down to normal temperature and use the same for mixing with sugar and water.
4. Mixture Of Corn Flour, Sugar And Egg White
This is an age old and time tested process. All that is required is egg white mixed thoroughly with sugar and corn flour. One teaspoon of corn flour should be mixed with one teaspoon of sugar. The mixture should be added to the egg white and stirred till it becomes a paste. It should be applied on the upper lip area around twice a day for 30 to 45 days.
5. Bengal Gram Flour With Turmeric
This is another time tested method of getting rid of upper lip hair. The flour should be mixed in water and turmeric to create a paste. The same should be applied to the upper lip area. It should be scrubbed in the direction which hair growth is taking place. It should be allowed to dry and then washed off. If continued for a period of one month, it will have the desired results.
6. Yogurt, Turmeric And Egg White
Turmeric is one of the best remedies for upper lip hair. When it is mixed with yoghurt and egg white and applied on the affected area twice a day, you can certainly see the right results within fifteen days. However, the process has to be continued for around 45 to 60 days for having the best impact.
Do's And Donts
Do's
In almost all the above methods turmeric plays an important role. Therefore it can certainly help to remove unwanted hair from other parts of the body too. Therefore it should be used regularly.
Don'ts
As far as don'ts are concerned, it would be disastrous to shave upper lip hair because it will only worsen problems.
If razors are used and if the hair starts keep growing again in the upper lip area and then laser surgery would be the only option left.