10 Ways to Get Rid Of Under Eye Wrinkles
As age goes, wrinkles will appear on the skin. When it comes to face, the first part affected by wrinkles will be your eyes. Yes, eyes. Despite the age, under-eye wrinkles can occur due to other physical stresses also. This is one of the most common beauty issues that have to be taken care of.
If regular care is not given to eyes, it will eventually develop under eye wrinkles that will gradually make you look older than you are! From using eye balms and eye cream to using natural products like cucumber and avocado, there shouldn't be any excuses as to why looking after your under eyes shouldn't be a priority. Let's see some of the natural remedies to get rid of under eye wrinkles.
1. Cucumber
The most common and known remedy for wrinkles under eyes is fresh cucumber. You might have seen ladies in the advertisements who have applied a face pack with cucumber in their eyes. It's not just for advertising. These common ads show how much role does cucumber has in the care of eyes! It is really crazy to know that cucumber is still used in almost every modern clinic to treat under eye wrinkles. Let's see how to use it.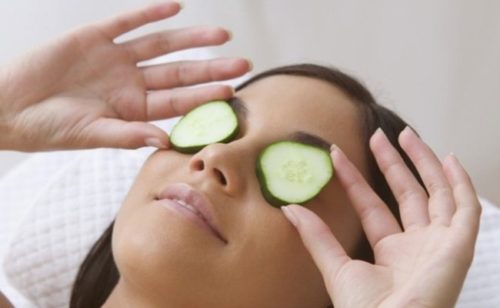 Take a fresh cucumber from the lot and slice it into thin circles. Do not peel them. Keep 2 slices in the refrigerator for 10 minutes. Take it out and gently place it over closed eyelids. Let it stay until the moisture from the slices get absorbed. After that, just wipe it with pure cotton, and you are done!
2. Coconut Milk
Coconut milk is one beautification product that is easily available over the market. Yes, it is not merely for cooking. Coconut milk helps in the overall skin and heart health. When applied to the skin, it helps the skin moisturised. Coconut milk has a mild cleansing property too. This will help in cleaning the skin along with moisturising it. Wondering how to use it for under eye wrinkle? Here comes the way to use
Take a fresh coconut slice and crush it in the mixer. Squeeze the milk using clean hands or by pressing the ground paste inside a pure white cloth. Gently massage the milk under the eyes and leave till dry. Wipe the eyes with a clean cotton piece when it is completely dry. You can wash your face if you feel that your face looks oily.

3. Potato
Yes! Potatoes are known for its power to cure skin related issues. It keeps the skin rejuvenated and soft. It nourishes the skin instantly like the best under eye wrinkle cream. The carbohydrates and vitamin C present in the potatoes acts instantly on the skin and will make the skin glow. Eager to know how it works?
Peel a potato and make thin round slices out of it. The place those thin slices over the eyes and wait till it dries. If you want to try another way, Peel the cooked potatoes and massage your eyes with those clean cooked peels.
4. Egg
Eggs are proven to be a source of vitamins and proteins. Egg whites contain a huge amount of protein that is proven to be skin tightening agents. You can simply understand it by applying a bit of egg white on your skin. When it dries out, you can feel that the skin has been tightened there. So how to make this work for under eye wrinkles? Let's see
Wrinkles occur due to the loosening of skin. To tighten this, take 5 drops of egg whites and apply it under the eyes. Let it dry for some time. Then wash the face with fresh clean water and pat dry. Doing this regularly will make your skin tight and thus will cure wrinkles.
5. Olive Oil
Olive oil is one of the world's most consumed oil. It has got a very strong moisturising and curing power. It is used in cooking and in body care at the same time. When it comes to health, it's an all rounder! It cures the inner health problems and outer problems as well. Let's see the method to use it
Clean your face and gently massage the olive oil under your eyes. Keep notice to massage it gently in a circular motion. Keep doing it for 10 minutes and wash the face with soap and fresh water. Viola! Here are the world's most beautiful eyes! Doing this occasionally will rejuvenate the under eye skin and will help to remove wrinkles under eyes as well.
6. Rose Water
Rose water is another common beauty product that is commonly available in the market. If you want, you can make it yourself by putting fresh rose petals in a bowl of clean, fresh water overnight. So, the water is ready, what to do next? Let's find out
Wash the face, concentrating on the eyes with this water daily. Do this multiple times a day to get best results. This is one of the most convenient ways to tighten your skin with fewer efforts.
7. Avocado
Have you ever wondered why a fruit that doesn't have a very sweet or sour taste is still the favourite in the market? Yes, it's the avocado. It is a fruit that is never famous for its taste, but for its health benefits. Avocado is a rich source of mineral and vitamins. Let's see how it can be used to cure under eye wrinkles.
Take a ripe avocado and crush it into a nice paste. Apply the paste under the eyes and leave till the natural avocado juice oozes under your skin. Wash it after dries. See the beautiful skin without wrinkles, in limited uses!
8. Castor Oil
Castor oil is a medicinal ingredient in many natural beauty products. This ingredient has been used in the creation of ancient medicines across the southern parts of Asia. It is popular for its power to improve the colour of hair. Let's see how to use it.
Take 5 drops of oil in your palm and dip the forefinger if the next hand in the oil. Place the finger below your eyes and massage gently. Continue this for 5 minute=s and switch to the next eye. Wash off and see the wrinkle-less eyes!
9. Honey
Yes, honey! Honey works…Honey is proven to be one of the world's most natural antiseptic and antibiotic. It is useful for skin, hair, nail and whatever that is in the human body. Being widely used, it is easily available in the market. How can we use that? Let's find out
Take pure honey and gently put a layer of honey under your eyes. Rest the eyes for a while and wash it off.
10. Essential Oils
Essential oils are just heavenly. Using them will give a soothing feel to the mind and body. The smell just takes you to the heaven and will give internal pleasure. Is it used to cure under eye wrinkles? Let's see how
Put a drop of essential oil in warm ware and dissolve well. After that, wash your face with this water thoroughly. Wipe the face and feel the change in the depth and number of wrinkles around the eyes!
Please notice the below points before proceeding with under eye wrinkle cure.
Do not apply any of these if there are any wounds in the affected area.
Take special care of the eyes while using the natural objects.
Always be gentle on eyes.
Always massage the under eyes in circular motion.
Do not use artificial alternatives.
Use sun glasses during summers.
Hope this helps. Do this, and see a better you in the mirror!