10 Ways To Get Rid Of Razor Burn and Bumps On legs Fast
We can all agree that shaving is the fastest, and certainly the least painful way for getting rid of unwanted hairs on your legs. We can also agree this is especially important for the ladies. Namely, when the sun comes out, all the ladies start wearing their best dresses and skirts, and they're ready to shine brightly throughout the day.
However, there's something that ruins the fun: the annoying redness, and razor burns caused by irritated skin. If this seems as a problem impossible to solve, do not despair, you can actually get rid of razor burn, or bumps, on legs. The following simple tips might make your life easier.
1) A Miraculous Herb – Aloe Vera
Nature can be really generous when it comes to soothing remedies for our skin. Probably the most efficient one for the razor burn problems is the queen of healing herbs: aloe vera. If you apply aloe vera to the affected area, all the redness and rash will quickly disappear. This happens due to the immense richness of this plant in vitamins, calcium, and zinc, which are crucial elements for healthy and glowing skin. Therefore, whether you opt for aloe vera based cream, or for the fresh gel from the leaf, you'll certainly be thrilled with the results.
2) Another Green Gift from Nature – Black Tea
Black tea is famous as antioxidant, cancer preventer, energizer, but it also has beneficial role in helping with irritated-skin problem. The tannic acid from black tea will reduce the inflammation, so the skin cools down, and softens after the application. The simple process is this:
prepare your black tea as you usually do.
then give it a few minutes to cool off.
gently pat the affected area for several minutes.
This will definitely do the trick, and your legs will be perfectly shiny and beautiful again. So, next time when you're in for a cup of warm, sweet tea, make an extra cup.
3) Honey: Sweet and Tender
The first rule for the skin that turns heads, is to moisturize it regularly. Honey is the best moisturizer you can use, since it has antibacterial properties too. Honey is your trusted savior when it comes to razor burns as well. It will reduce inflammation, and protect the skin from many infections that can occur. Just apply it directly on the part of skin that is irritated, and after five minutes or so, rinse with cold water. What can you expect? Well, hydrated, soft, and silky skin.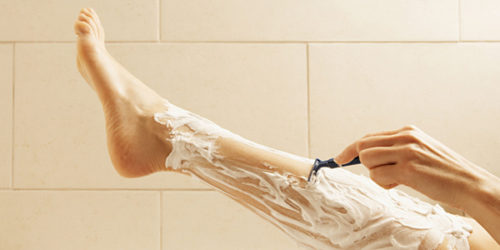 4) When It Gets Itchy – Get a Cucumber
Not only can your skin become red, bumpy, and rough after the shaving, but it can also be extremely itchy. To make things worse, the strong itch will lead you into the temptation to scratch already tortured skin. Of course, you will resist, because you have something precious in your kitchen: cucumbers. Yes, cucumbers can relieve the itchiness, because of vitamins C and K they contain. By rubbing the slices of fresh cucumber on the burning field, your skin will be healed efficiently and effortlessly.
5) Baking Soda: Bake for the Health's Sake
Baking Soda also falls within the treatment realm for razor burns and bumps. Moreover, it will cleanse the skin, and make it sleek. A cup of water with just a tablespoon of this magic white powder can notably reduce the inflammation.
The best way to apply the mixture is to soak a cotton ball into it, and lightly rub the problematic part of the skin. Afterwards, you're supposed to leave it on the skin for a couple of minutes, and then rinse it all with cool water. Who would've thought that there are so many remedies in our kitchen?
6) Aspirin: Not Only for Headaches and Toothaches
Aspirin is already very well known pain reliever. When taken orally, it can treat mild pain, fever, arthritis etc. For the problem of unpleasant burns and bumps we're talking about, aspirin can be of great help. Of course, the way of application is different (not oral!). You can make a healing balm out of warm water and a certain amount of aspirin.
Namely, two aspirins should be mixed with one teaspoon of water (warm). This will become pasty, and exactly that is what you need to rub on the skin. Next step is to leave it to work its magic for about ten minutes, and then you should rinse it with lukewarm water.
VERY IMPORTANT: If your skin is highly sensitive, then choose another way for treating razor burns.
7) Petroleum Jelly – Forever in the Service of Beauty
The burning sensation, followed by the aforementioned uncontrollable itch, can also be stopped effectively with petroleum jelly. Ladies will recognize this wonderful product, since it is widely used for beauty purposes. Well, say goodbye to irritated skin after shaving, because the amazing jelly will calm you and your skin. Apply it, leave it for a few minutes, remove with wet washcloth, and you're good to go!
8) Apple Cider Vinegar: The King of Antiseptics
Antiseptics help in preventing your skin from infections by destroying the bad bacteria and other harmful microorganisms. It is likely that irritated skin will catch infection, so apple cider vinegar is what you need. A cotton ball of this vinegar, a little bit of water to wash it off, and that's it. Redness will disappear as well, but still, be careful with apple cider vinegar, if you have very sensitive skin. You can always add some water, if it's too harsh for your skin type.
9) Lavender Oil: Flowery Medicine
Essential oils can calm down everybody, and, as it seems, everything. Lavender has anti-inflammatory and antiseptic properties, so it can reduce redness and the feeling of burning fire on the shaved area. It can, furthermore, reduce the swelling; and let's not forget: it gives out the most charming scent!
You can add a few drops of lavender oil into a 60 ml of water, and enjoy the tranquility (in every sense of the word).
10) Cold Compress: The Easiest One
If you have nothing else at hand, then do the simplest thing ever: take a plastic bag, fill it with ice cubes, and press the skin to cool it down. This will put you at ease, while you feel the fire quenching, instantly. You could even prevent the forming of the razor bumps by pressing the area with cold compress.
Shaving can really be stressful, but there are many solutions for as many problems shaving may cause. Here are some additional tips for maintaining your skin healthy, even after a vicious razor:
always use shaving gels; there are so many of them on the market; choose one to match your skin type.
to avoid all the mess on your legs that comes after shaving, try to use new razor, and long strokes, with as little pressure as you can.
never ever shave dry skin; this will definitely lead to burns and razor bumps on pubic area.
use soothing lotions, mild creams, lukewarm water, anything to make it easy for you, and for your beloved skin.