10 Ways To Get Rid Of Dark Underarms Fast
If you wish to find out ways and means to get rid of dark underarms fast then it is quite likely that you will find the next few lines interesting and informative. In a world where looks and appearances matters, having silky, smooth and nicely colored underarms is a must both for men and women. Women in particular would never like to have underarms which are dark.
However, regular use of hair removal creams, razors and other such things could lead to the underarms becoming dark and ugly. So over the next few lines we will try and find out the various things which could help us get rid of underarm darkness. In fact we will be looking at ten such steps which have been proven, time-tested and safe.
1. Bleaching With Lemon
Whenever you wish to remove something dark from your skin, lemon always comes to our mind. Hence it is commonly used to gradually turn dark underarms into white. All that you need to do is take a slice of thick lemon and rub it in your underarms before taking bath. You could add a bit of moisturizer after the bath because the area might tend to become dry. You might also use also turmeric in combination with sliced potato and rub your underarms with it.
2. Cucumbers Could Also Work Exceedingly Well
If you wish to surprise your husband or boyfriend with white underarms you could try using cucumber the same way as you use lemon or potato. While lemon could help to bleach your skin, cucumber could prevent irritation and itching. Regular itching or the underarms could also lead to dark pigmentation taking place. this can be avoided by regularly rubbing the underarms with slices of cucumber and then washing them off. They also provide a cooling effect to the underarms.
3. Using Natural Scrubs As Exfoliating Agents Can Help
In many cases black underarms is nothing but accumulation of dead cells. Hence you could have them removed with the help of a good natural exfoliating agent. Something like a soft loofah could work but you have to be careful that you do not damage the underarms skin and end us having rashes and bruises in your zeal to make the underarms white. You should research the internet and then decide.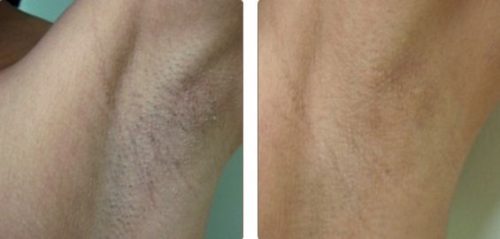 4. Baking Soda Could Also Work Wonders
Use of white baking soda can also be helpful and according to many it is considered to be one of the best home remedies for dark underarms. This is because it is considered to be a wonderful exfoliating agent which is safe and does not harm the skin. Further when you use baking soda you can also stop using those synthetically made antiperspirants and deodorants. They are often one of the important culprits when it comes to those dark and ugly spots in the underarms.
5. You Could Try Orange Peels
Orange peels are considered to be another great way to peel away those extra layers of dark and dead cells in your underarms. Orange belongs to the lemon family and therefore has a bleaching effect. It can lighten your underarms provided it is used the right way. You can add some milk and rose water to it to make it even more effective.
6. Saffron Fragrant Is Also Great For Dark Underarms
Saffron without any doubt is an expensive thing but it can play a big role in giving that perfect white underarms. Further you can save money on deodorants because saffron is known to kill odor causing bacteria quite effectively. Therefore it can play a great role to lighten dark underarms apart from removing odor from your underarms.
7. The Fascinating Properties Of Milk
Milk is rich in many vitamins and fatty acids. They are known to be very effective for lightening the dark skin under your arms. It has to be mixed with curd because the lactic acid in curd with milk can provide a magical impact.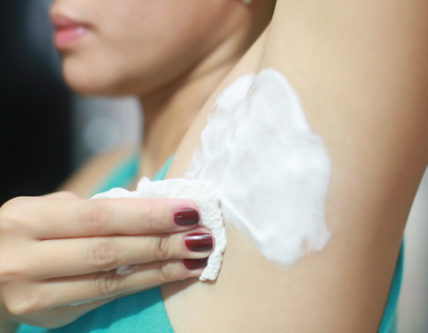 8. Oils Can Also Be Used
There are different types of oils which can also play a big role in lightening the dark skin in your underarms. Though many people avoid oil for various reasons, they can be efficient as far as making underarm skin white is concerned. There are many oils which can be used and they include olive oil, coconut oil, vitamin E oil, or even vitamin E capsules.
9. Chickpea Flour Is Another Solution
For many decades chickpea flour has been used for treating underarms which are dark. However, it has to be used in combination with yoghurt, gramflour, lemon juice and turmeric. The mixture has to be applied on your underarms and it should be kept like that for half hour and then washed.
10. Use Of Herbal Extracts
Apart from the above there are many herbal extracts which also could be used for removing black dead cells from your underarms. They include licorice roots, raspberry extract and aspen extract. All these should be mixed and should be applied in your underarms for 30 minutes.
Some Do And Don'ts:
While the above are a few natural ways for making underarm white, there are a few dos and don'ts which must be followed. A few of them are mentioned below:
Never shave underarms. This is because shaving removes only surface hair and they leave an ugly black patch when done regularly.
You should also not use hair removal creams because they have harsh chemicals which damage the skin and make them dark. They also lead to irritation, rashes and other such problems.
Electrolysis is also something which should be avoided if you wish to get rid of black underarms. They could lead to hyper pigmentation.
Some Things You Could Do:
Instead of using blades, creams or electrolysis process, waxing would be a better way to remove hair from your underarms.
Instead of using artificial deodorants and antiperspirants a better option would be to use baking soda and saffron as mentioned above.
Do check your blood sugar regularly and ensure that you do not have diabetes. Diabetes could lead to skin damage and pigmentation leading to underarm darkening.
Conclusion:
Hence at the end of the day there are quite a few things which you could do naturally to keep your underarms soft, silky and most importantly white and free from dark and ugly spots and dead skin cells.