10 Ways To Get Rid Of Dark Circles Under Eyes Fast And Naturally
If you are figuring out to how to get rid of dark circles under eyes, you are not alone. This problem plagues millions of people across the world. The agony of having those unsightly under eyes dark circles will make you want to turn to your make-up kit. But, in reality, dark shadows under eyes should not be swept under the carpet.
One needs to look for ways to exterminate them from the face once and for all. There are a number of home remedies that can help you remove them completely in a matter of weeks. Let's look at 10 ways to get rid of dark circles under the eyes fast and naturally.
1) Apply Potato Juice
Potato is one among the most effective remedies for dark circles. Potatoes pack in lots of natural bleaching agents that can help lighten dark shadows and eliminate puffiness around the eyes. Simply grate 1-2 chilled potatoes to extract the juice. Sock a cotton ball in potato juice and press onto your eyes. Make sure the potato juice covers the dark shadows under your eyes and the eyelids. Let it sit for 10 to 15 minutes. Rinse your eyelids well with cool water.
2) Use Cucumber
Scientists have isolated numerous antioxidants found in cucumbers, including vitexin, cucurbitacins, isoscoparin, orientin, vitamins C and K. These antioxidants can help eradicate dark circles and reduce the swelling that triggers them. To use cucumbers, refrigerate a large cucumber until it is cold. Slice 1/2 inches slices and place one slice over each of your eyes. Wash off after 10 to 15 minutes. Alternately, you can extract the juice and apply it over closed eyes using soaked cotton balls.
3) Apply Chilled Milk
An excellent exfoliant, milk is packed with alpha hydroxy acids, which can help get rid of dark circles under the eye. In addition, milk contains proteins, fat, lactic acids, amino acids, and vitamins A and D, all of which soothe dry, upset skin. To get rid of dark circles, soak two cotton balls in chilled milk, and apply to your eyes. Let it sit there for 10-15 minutes, and then wash off. Cold milk will not only refresh the under eye area, but also help water retention and deflate puffy eyes.
4) Try Almond Oil
Almond oil is a great ingredient that's beneficial for the dark skin around your eyes. The added advantage of using it to get rid of dark shadows is that you will also be fighting small wrinkles that may be forming around your eyes. Before going to sleep, apply a small amount of almond oil to your eyes and gently massage it into your skin. Leave it overnight. The following morning, rinse it with cold water. Repeat this daily until the under eye dark circles disappear.
5) Use Rose Water
Rose water can also prove beneficial. Rose water has an excellent ingredient for skin care. As well as helping to rejuvenate the skin, it can help soothe the skin around the eyes. Because of its mild astringent properties, it is a good skin toner. Soak cotton balls in rose water for a few minutes and place the soaked cotton balls on your closed eyes for 15-20 minutes. For faster results, follow this remedy twice a day for several weeks.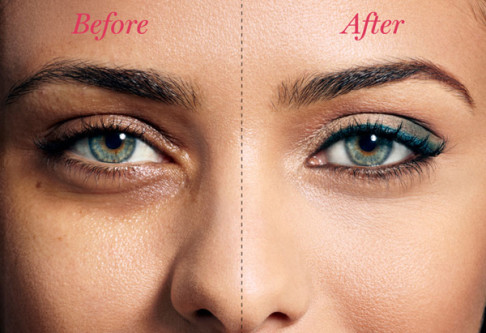 6) Try Tea Bags
One easy way to eliminate dark circles under your eyes is to use tea bags. Tea bags are an excellent economical way to eliminate dark under eye circles without any adverse side effects. They boast anti-oxidants that combats free radicals, eradicate fine lines as well as dark circles around the eyes. Simply prepare your morning tea and let the tea bag cool for a few minutes. When the tea bags cool, place them onto your eyes and relax in a reclining position for about 10-20 minutes.
7) Use Tomato Juice
Another natural approach to get rid of dark under eye circles is to apply a mixture of tomato juice and lemon onto your eyes everyday for several weeks. Tomatoes contain natural whitening and bleaching properties that help lighten skin tone skin. To use tomatoes for dark shadows, simply mix one teaspoon of tomato juice with 1/2 teaspoon of lemon juice. Gently apply the mixture on the dark shadows and let it to sit for about 10 minutes. Remove the mixture and rinse it off with clean water.
8) Use An Egg White
Egg is a great natural ingredient that helps alleviate the appearance of dark circles. Besides, it contains high concentration of B vitamin which helps to promote circulation and reduce inflammation. Gently pat an egg white onto the under eye area. Make sure it does not come into contact with your lids. Allow it to sit there for about 10 minutes. Rinse with cold water. Alternatively, you can mix egg white with olive oil and smear it onto your under eye for the same period of time.
9) Apply Avocado
Avocados eliminate dark circles, age spots and pigmentation along with toning your skin to give it that natural beauty. The best thing about this fruit is that it is economical and can remove dark shadows with only a few applications. Place a few slices of ripe avocado onto each eye and leave it on for at about 10-5 minutes then rinse off with water. Alternatively, squash some avocado and add almond oil. Apply the mixture to the eyes. Leave it on for 5-10 minutes, and then wash it off with clean water.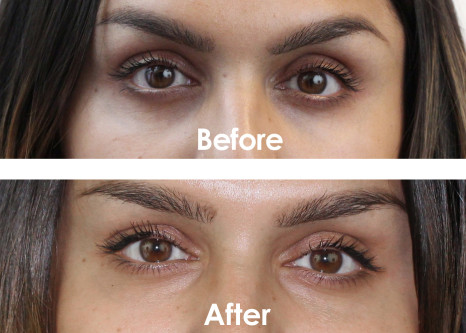 10) Eat A Healthy Diet
Put simply, the healthier the food you eat, the better your skin is going to look. Our bodies have up to 100 trillion cells, each one requiring a constant supply of nutrients to function optimally. Food affects these cells and by extension, each aspect of our body including the skin. For dark shadows, you need a daily dose of K iron, folic acid, Vitamin C and Vitamin E. So consume more berries, citrus fruits, green leafy, vegetables, avocado, seafood, nuts, whole grains, lean beef, cheese and green tea.
Conclusion:
Dark circles under the eyes affect a large number of the world's population. They make sufferers dull and unappealing. They steal away their elegance. The good news, however, is that there are a number of safe and effective ways to eliminate these under eye circles. If you're tired of feeling self-conscious and if your dark circles affect your appearance, try these remedies.