6 Ways To Get Rid Of Blind Pimples Fast
Pimples and acne are one of the most common skin problems. But pimples at any condition are disturbing and painful. But when it comes to blind pimples it is even more painful. The reason is that they are located deep under the skin surface and are quite close to the nerves.
This can be seen especially on the head and face. They are highly sensible and can make you feel the pain once you touch it. It also stays and bothers you for a longer time than other pimples. But with some of the great home remedies you can get rid of blind pimples easily and fast.
1: Tea Tree Oil To Get Rid Of Blind Pimples
One of the best ways to treat the blind pimples and get rid of them is tea tree oil. This oil is full of antibacterial properties that help to fight against the bacteria causing pimples. Thus, it helps to reduce it and even prevent it from appearing again. Tea tree oil is great to kill germs and cleanse your skin. Thus, any kinds of acne or pimples are prevented by it. All you need is a few drops of tea tree oil on the cotton pad. Dab it gently over the blind pimples are let it be for overnight. Wash it off with water.
2: Toothpaste To Get Rid Of Blind Pimples
Some people find toothpaste very useful for the blind pimples. It is the best blind pimple treatment for the people who have a very sensitive skin. You have to make sure that the toothpaste doesn't contain any kind of chemicals in it. Otherwise it can irritate your skin. So, the toothpaste containing clove oil and mint can be helpful to reduce the redness and soreness. It also helps in reducing the size of it. Keep it overnight and wash off in the morning.
3: Honey To Get Rid Of Blind Pimples
Honey is considered to be as one of the best antiseptic ingredient for treating skin problems. You can simply trust on honey and its great anti-microbial properties. It helps them to fight against the bacteria which are responsible for the pimples. It even helps to clean the pores and close them. Take some honey on your cotton pad and dab it over the pimples. Keep it like that for 15 to 20 minutes and then rinse it off.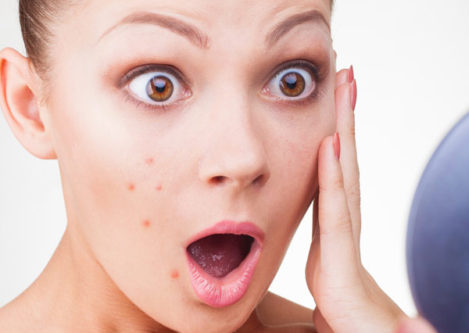 4: Aloe Vera To Get Rid Of Blind Pimples
Get some organic aloe vera gel for you. It is the best remedy to treat the blind pimples. It has antibacterial as well as anti-inflammatory materials in it which helps to get rid of the pimples fast. It is a proven and effective way to treat these pimples. Aloe vera is quite popular for its healing properties which can cure many skin problems. Apply this on the affected area and leave it for 20 minutes. Then, rinse it with the help of lukewarm water.
5: Lemon Juice To Get Rid Of Blind Pimples
You can get rid of blind pimples easily with the help of lemon juice. This is something that can be found in every household. And it has been proved to be the best remedy for your skin. It helps to remove bacteria from the skin and helps to heal the pimple properly. So, squeeze some fresh lemon juice and soak a piece of cotton in it. Then, dab it gently on the affected areas. Keep it for few minutes and then rinse it off.
6: Apple Cider Vinegar To Get Rid Of Blind Pimples
Apple cider vinegar is often considered as a good blind pimple treatment because of the tonic action it has. It also promotes circulation of blood and also has great antiseptic properties. It helps to prevent bacterial growth and further outbreak of pimples and other skin problems. It is very effective on the germs and bacteria causing various skin problems including acne and pimples. Take a teaspoon of this vinegar and soak the cotton pad in it. Now, apply on the affected areas and keep it for 15 minutes. Then rinse it off with water.
So, these are the top 6 natural home remedies to get rid of blind pimples. Some important tips along with these are :
Drink a lot of water to wash away the toxic materials and prevent breakouts.
Use water based moisturizers if you have an oily skin
Make sure you wash the face regularly to clean the pores
Do not prick the pimples as it can be painful and cause infections.