10 Ways to Get Rid of Dry Itchy Skin
Dry itchy skin problems are very common and can happen for a number of reasons. Dry weather, allergic reactions, insect bites, side-effects of medications, infections and bad hygiene are some of the most common causes of itchy skin and it can be extremely aggravating and discomforting.
Scratching is the very basic instinct for anyone who is tackling dry and itchy skin and even though it seems relaxing momentarily, scratching can lead things to a more complicated state. Instead of scratching and creating possibilities for injuries or infections, follow these natural home remedies to get rid of dry itchy skin easily or seek consultation at somewhere like Westside Dermatology.
1. Oatmeal
If you have dry itchy patches on skin in some parts of your body, mix colloidal oatmeal with a little water to form a thick paste and apply on affected regions. Cover with a cloth and leave it undisturbed for half an hour and wash later with water. Oatmeal has anti-inflammatory property which soothes dry skin and helps reduce itchiness and irritation. You can also fill a bathtub with lukewarm water and mix one cup of oats in it till the water turns whitish. Soak your body in this water once or more for half an hour daily depending on how severe your condition is.
2. Lemon
Lemon is widely popular as an antidote for skin related issues owing to its anti-inflammatory and antiseptic properties. Lemons are rich in acids primarily citric acid which is very beneficial in treating dry itchy skin but should only be used by people who don't have very sensitive skin. To achieve best results, rub lemon slices or extract lemon juice and apply on affected regions and leave it to dry. You can rinse later with lukewarm water.
3. Baking Soda
Baking soda finds its way into most commonly used home remedies for skin rashes or itchy skin. It neutralizes acid thus soothing inflammation and itchiness. You can soak yourself in a bathtub filled with a mixture of cold water and baking soda (one cup) for half an hour daily for relief. Use a dry towel to pat yourself dry later instead of rubbing in any way. For dry itchy skin on face or patches of itchy skin anywhere else, you can mix baking soda with a little water to form a thick paste. Apply this on itchy patches and let it sit for 15-20 minutes before rinsing off with water.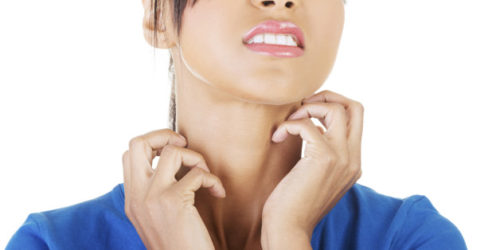 4. Apple Cider Vinegar
Apple cider vinegar has anti-bacterial and anti-fungal components which make it a very effective antiseptic to reduce itching and inflammation of skin. Mix 2-3 cups of apple cider vinegar in your bathwater and soak in for half an hour at-least. Use a doctor approved light moisturizer afterwards to keep your skin hydrated and to reduce itching. It is also very effective if you have dry itchy skin around eyes or dry itchy skin on face. Use a small ball of cotton to apply apple cider vinegar on to the dry patches and use lukewarm water to wash your face later.
5. Cloves & Juniper berries
A combination of clove or rather clove oil and juniper berries is a potent solution to dry itchy patches of skin. Juniper berries have well-established anti-inflammatory properties and clove oil has an essential mixture of components that soothe nerve endings in skin and reduce itchiness and irritation. The best way to utilize it for skin irritation is to make a concoction which you can apply on affected areas and leave overnight. Melt two spoons of beeswax and six teaspoon of butter separately and mix them. Stir in around 5-6 ground cloves and 3-4 teaspoon of crushed juniper berries into this mixture and mix them well. The solution is ready to use once it cools down. Wash it off next morning by taking a cold bath.
6. Cold Compress
A cold compress can be very powerful in helping you tackle the continuous discomfort and itchy feeling if you have dry skin. Wrap few ice-cubes in a clean cotton cloth and use it as a cold compress. You can also take a cold bath or ice bath. Cold compress provides instant relief from itchiness and irritation in skin and can be repeated as many times required.
7. Aloe Vera
Aloe Vera is used for a number of skin related troubles owing to its anti-inflammatory property and essential vitamins that help keep skin hydrated and moisturized. This is particularly helpful if you have dry itchy patches on skin and extracted aloe vera oil from fresh leaves can soothe your dry skin patches and reduce itching tremendously. For best results make a paste of aloe vera gel and double quantity of green clay and apply it on affected areas. This is convenient and safe if you have dry itchy skin on face or around eyes.
8. Basil
Basil is a very powerful natural herb used to get rid of dry itchy skin. Basil has certain essential oils, camphor, thymol and eugenol which are extremely beneficial for dry skin. Together these elements combine to form a potent antiseptic and anesthetic. You can rub a few freshly crushed basil leaves directly on to affected areas on skin or make a solution by boiling basil leaves in water – either way they speed up the healing process for dry skin and reduce irritation.
9. Thyme
Thyme contains thymol which can numb sensitive nerve endings in skin thus reducing itching, irritation and inflammation greatly. Add one spoon of dry thyme leaves to boiling water, cover it and let it cool. Strain this mixture and apply the solution on affected areas using a ball of cotton or clean piece of cloth. Repeat as many times necessary.
10. Peppermint Oil
A widely used natural home remedy for a number of problems, peppermint oil finds immense use in treating dry itchy patches on skin owing to its soothing analgesic and anti-inflammatory properties. You can add few drops of peppermint oil in your bath water before soaking yourself in for a while or mix few drops of peppermint oil with almond, olive or coconut oil and massage lightly on to dry itchy skin around eyes or localized patches anywhere.
These home remedies come in very handy in treating dry itchy skin but there are a few necessary things that you should do and some that you shouldn't.
Do
Take cold baths, once or multiple times daily.
Use moisturizers or natural oils to keep skin hydrated. When it comes to skincare, you may feel like you've tried pretty much everything, but you still haven't found a product that helps with your dry skin. Maybe trying the 10 step Korean beauty skin care routine could work for you. The main focus of this routine is hydration. You may think that ten steps is a lot, but your skin will thank you in the long run.The use of cleansers and moisturizers are an essential part of this, along with other steps such as using a toner, essence and a sheet mask. Once you do your research into this, you'll more than likely want to give this a go and you'll hopefully start to see a difference in your skin.
Stay in a cool place away from heat.
Don't
Scratch or itch – It should be completely avoided.
Avoid hygiene – Unhygienic lifestyle might prevent the healing process.
Wear tight or skin hugging clothes.
Stay exposed in direct sunlight for long.
Dry and itchy skin is common particularly in hot and humid weather and can be easily treated by using these home remedies. Scratching or itching can really aggravate things and lead to something severe.