10 Ways To Get Rid Of Forehead Acne Fast And Naturally
Acne and pimples are quite normal in many people. This is just a skin condition and the reasons for its appearing can be many. It is because of the oily skin/scalp, clogged pores, stress, unbalanced diets etc. Though acne can appear all over the face, it is more common in the forehead.
The reason behind this is it falls under the "T-zone". And the area in this zone produces more oil. Thus, it results into pimples and acne all over the forehead. Here are some home remedies and tips for you to get rid of forehead acne fast and naturally:
1) Lemon Juice
Lemon juice is a great source of Vitamin C which is considered to be one of the best ways to get rid of pimples. Make sure to extract fresh juice from the lemon and do not use the bottled ones as it may contain preservatives. Take a clean cotton and dip it into the lemon juice. Then gently apply it all over the pimples. Leave it overnight and then wash your face. Do it regularly to get rid of the pimples.
2) Tea Tree Oil
This is another great home remedy for acne on forehead. Tea tree oil contains some antibiotic properties which are really great in exterminating the germs and bacteria causing pimples and acne. So, you need to soak a cotton pad in water first and then pour 2 to 3 drops of the oil on it. Dab it gently over the pimples. Keep it like that for overnight.
3) Tomato Mask
Tomato contains effective antioxidants which is highly beneficial in healing the acne and the scars. So, it is really great for treating your acne. Slice a tomato and take a portion to rub it on your forehead. Repeat this twice in a day gently. Let it sit for 10 to 15 minutes and then wash away your face.
4) Garlic
Garlic is highly effective in treating the acne on forehead. It is one of the best remedies which contain antioxidant, antifungal, antiviral and antiseptic agents. Thus, the action of garlic on acne is quite fast. Take a clove of it and rub the juice of it on the pimple. Even eating a raw clove daily can purify your blood from inside preventing acne and pimple.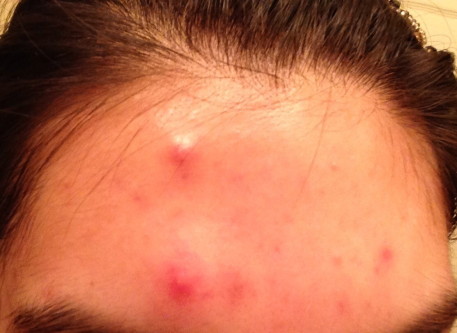 5) Baking Soda
Baking soda helps to exfoliate the skin and remove the excess oil from the skin. It also helps to get rid of dead skin cells and dirt. Thus, it helps to rid of acne from the forehead. Make a thick paste by adding baking soda with either lemon juice or water. Apply it on the acne and keep it for few minutes. After that, wash your face and make sure to repeat this twice a day for faster result.
6) Papaya
Papaya is a great source of antioxidant Vitamin A and it also contains some enzymes which are really great to reduce the inflammation of the skin. That is why it is one of the best remedies for the pimples on forehead. Crush a piece of raw papaya and apply the juice on the pimples. Leave it for 10 to 15 minutes and wash the face gently. It also acts as a great exfoliating face mask.
7) Witch Hazel
One of the best natural astringents is the witch hazel. It helps to get rid of the clogged pores effectively. You can use this witch hazel paste to get rid of forehead acne fast. Apply the paste and once it dries off, rinse it with lukewarm water. It is very effective and helpful method.
8) Apple Cider Vinegar
If you have apple cider vinegar with you, then you probably have the best cure for the pimples and acne. Soak a cotton pad in the apple cider vinegar and then dab it all over the areas affected by pimples and acne. Let it sit for 10 to 15 minutes and then rinse it off with water. This will help you to get rid of the acne instantly if repeated daily.
9) Coriander & Turmeric
Another great remedy to get rid of the pimples on your forehead is to mix some coriander juice along with the turmeric powder. Now you have to apply this on the acne and keep it overnight. Then rinse the face with warm water. It can heal your acne quite quickly. Make sure to repeat it every day.
10) Mustard Powder & Honey
Mustard powder along with honey can do a magic to the pimples. Mustard contains natural salicylic acid which is a great ingredient to fight again the acne. It also contains zinc, vitamin C and omega 3. Honey is also great for getting rid of pimples. Thus, the mixture of honey and mustard powder can be really great for your skin.
Some Useful Tips For You
So, these are the 10 main ways by which you can get rid of forehead acne fast and naturally. But you have to keep certain things on your mind. Here are some of the useful tips for you:
Do not apply the lemon juice on the pimple during the day time. It makes your skin sensitive to the sun and direct sun rays can damage your skin. It can cause blemishes and acne.
When there is a pimple, many people have the tendency to prick it pop it. But do not do that. It may lead to a permanent scarring and that will look very bad.
Whenever you use a sunscreen or any moisturizer, make sure you are using a water based one. There are many oil free cosmetics which are really great for you.
If there is any pimple or acne on your forehead, take quick action to get rid of it. And remember that you should not touch your forehead with the unwashed hands.
Drink a lot of water to keep yourself hydrated as this will help you to get rid of the acne naturally and also get plenty of sleep. Stress is one of the main causes of acne. So, sleep well and drink plenty of water.
So, these are some of the useful ways and tips to get rid of acne on forehead and prevent it from appearing again.