10 Ways To Get Rid Of Split Ends Without Cutting Hair
Split ends in women hair is one of the common yet the most troublesome problem. When hairs lost all its moisture and become dry and brittle then it looses the defensive outer coating. At that point of time split ends start to form in the hair ends.
Harsh combing, using chemicals and heat on hair and dry climate are the primary reasons behind split ends. There are many precautions which can help one to get rid of split ends without cutting hair. These procedures are completely natural and totally harmless for the hairs.
1. Egg Masking
Eggs contain all those essential fatty livers and proteins which can make your roots stronger and scalp dirt free. Egg masking can do wonders in removing split ends in just few days of time.
Take half cup of egg yolk and 1 table spoon of yoghurt. Mix these two together and add some fresh olive oil onto this mixture to give this a juicy finish. Apply the mixture all over your hair and wait for at least half an hour. Then clean the masked hair with a mild shampoo and pat dry it completely.
2. Banana Hair Pack
Banana contains a huge amount of fibre and one can get rid of split ends easily after using banana face pack for a short period of time. To make the pack, you will need one ripe banana, 2 tbsp of curd, 5 drop of rose water and 2 tea spoon of lemon juice. Blend everything together and it will form a juicy paste. Apply this pack to every part of your hair. Massage the scalp area and leave your hair for 1 long hour. Lastly, wash it off with clean water.
3. Papaya Pack
Papaya is filled with lots of amino acids and vitamins which can strengthen the hair root. Papaya is known to offer silky hair but if you use this papaya pack on your hair, you may get rid of split ends in no time. Take a ripe papaya and mix half cup of yoghurt. Mix them well in the blending machine and apply on the hair. Clean your hair completely after waiting for half hour of time.Fresh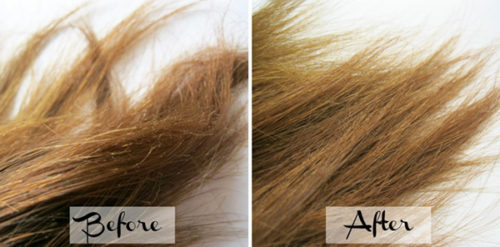 4. Avocado Pack
Avocado is the king ingredient to solve all types of hair troubles and it is extremely beneficial to fix split ends as it is filled with hair nourishing Vitamin K and D. Take a fresh and ripe avocado from the market and half cup of olive oil. Mash the avocado and add olive oil into the mixture. Apply all over your hair except the root area. Keep it for 30 minutes and wash it off using mild shampoo.
5. Flat Beer Pack
Beer holds sugar and protein altogether and both these elements are really beneficial to eradicate split ends naturally. All you need to do is to take a pure fat beer and pour it into a spray bottle. Spray the mixture evenly on the hair. Wait for 1 long hour and clean it perfectly with a mild shampoo. You can also use beer shampoo for the cleaning procedure.
6. Pure Honey Pack
Honey is a miraculous element of nature and is best known for its magical healing power. Fresh raw honey is really good for the split ends and can remove them easily. Take fresh raw honey and mix it with 3 table spoon of curd. The paste will be thick in nature and you have to apply directly in to the split ends. Rub it for 15 minutes and clean the hair with a mild shampoo.
7. Aloe Vera Gel Pack
Your hair needs moisture and only Aloe Vera gel can provide moisture to the damaged split ends and rough hairs. Take one to three aloe Vera leaves and extracted its juice. Add 3 table spoons of castor oil and jojoba oil with the aloe juice and blend well. Apply the liquid on to the whole hair and massage this for half an hour. Rinse the hair with hair friendly shampoo. Use this procedure for thrice a week to get the most desired results.
8. Cream And Milk Shampoo
The combination of milk and cream is perfect to treat split ends as they proffer the hair follicle with lots of essential protein and help with the growth of tissues.
To make the mixture, you will need to take 2 table spoon of cream and two cup of fresh milk. Mix them both in the blending machine. Use the liquid as a shampoo and rinse the whole hair with this. Use a delicate shampoo to eradicate the smell. You can continue this process for 2 to 3 months to get the best result.
9. Leave In Conditioners
Leave in conditioners are very popular element is healing split ends perfectly. You can apply the conditioner gel in the morning and it will stay as a coating on above your hair and would protect it from external damages. They are very affordable and easily available on the online market place.
10. Hot Oil Massage
Massaging increases the blood circulation in the body along with hair. It provides an extra shine and eradicates split ends. Take 3 tbsp of coconut oil, almond oil and olive oil and mix them on a pot. You can even make it as your daily oil and can store it into the freezer. Heat the mixture every day and massage onto the whole head for one long hour.
Prevention is always better than cure. Follow some quick tips to defend split ends from happening to your hair.
Heat is extremely bad for our hair and excessive heat can cause damage at the hair ends. So always try to cover the hair with a scarf or use sun screen serums for hair to protect it from the glazing sun.
Always use mild shampoo and it is better to rinse the hair with cold water. Always use conditioner after every time you shampoo. Dry your hair with a soft towel. If you are interested in getting a new shampoo, you can check out these salon shampoos for professionals for a better idea as to what is available.
Always use wide tooth combs to detangle the hair. It is must to use this comb on wet hair to prevent hair breakage.
Use hair styling products or equipment as less as you can because they are the most primary reason behind split ends.