6 Ways To Get Rid Of Puffy Eyelids
One of the worst feelings in this world is waking up with swollen, puffy eyelids, especially amongst beauty models. Besides the already spoiled day, the disturbing, uncomfortable feeling will color your eminently dull day.
But, do you know that there are multiple ways to get rid of puffy eyelids?
Puff eyes is a mild, yet the pretty typical situation in which the eyes begin to swell, making one look tired, ill, and uncomfortable. While it is not so severe, it can be annoying, spoiling the look on one's beautiful eyes.
Puffy eyelids are particularly caused by hormonal changes in the body, fluid retention, crying, stress, sleeping, and allergies among other many factors. In fact, many alcoholics who seldom drink enough water and those who cry a lot tend to experience this condition. Although puffy eyelids in the morning isn't a great look, one can seamlessly control them using some home based treatment techniques.
1. Anti-Inflammatory Creams
The first and possibly the most prominent puffy eye treatment method involves using some specific over-the-counter anti-inflammatory creams. Most of the hemorrhoid creams meant for this purpose contain anti-inflammatory properties that invariably act to treat the problem.
The best thing about their usage besides their availability is, they require a little assistance to apply and work almost immediately. They work to tighten the puffy areas thereby reducing wrinkles although they can be problematic if they are exposed to the eyes. However, they are effective as a way of reducing puffy eyelids.
2. Cucumber Slices
Although swollen eyelids in the morning aren't a desirable way to kick-start one's day, cold cucumber slices have proved to be among the best counter agents. Some scientific studies show that freshly cut cucumber slices contain a handsome supply of enzymes with astringent properties that help relieve inflammation while tightening the skin.
Using them is a no-brainer:
just cut two thin slices
relax and tip your head back
close your eyes
Place the two pieces on top of your eyes
After ten minutes, remove them
Wash your eyes
With the ease of accessing fresh cucumbers, their potency is an invaluable addition, especially when you can't access the other conventional methods of treatment.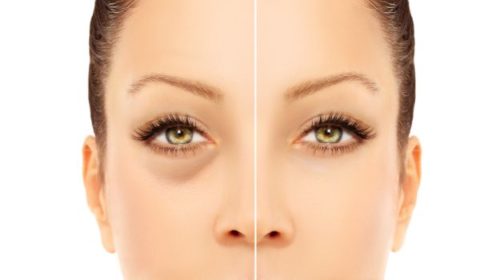 3. Potato Slices
If you can't grab any cucumber, a piece of fresh potato will still do the job reliably well. Unlike other puffy eyes treatment methods, using potato slices is pretty useful because of the enzyme catecholase. This treatment method works almost the same way cucumber slices do, bringing the much-needed relief.
4. Tea Bags
After gaining widespread acceptance as one of the most trusted beverage in the world, tea is also a potent agent in reducing puffy eyelids. Both green tea bags and black tea bags help soothe the irritating eyes, thereby bringing that relieving effect. In fact, studies suggest that tea contains tons of anti-irritant properties that heal the redness and inflammation with ease.
Take two tea bags and freeze for a few minutes
Lie down with your eyes closed
Take the two tea bags and place them over your eyelids
Let them rest for ten minutes
Remove them and wash your eyes
5. Water
Water is a natural anti-inflammatory agent, often used in extreme situations. While it is believed that puffy eyelids are as a result of among other reasons, deficiency of water in the body, drinking water works well to bring the soothing effect. Nutritionists often allude that up to eight glasses of clean water in a day is suitable to stay disease-free and hydrated. Therefore, to reduce puffy eyelids, grab a drink or more every day.
6. Cold Spoon
Although it might appear odd and awkward, using a cold spoon to relieve puffy eyelids is another recognized treatment method. In fact, it works like a charm, tightening up the skin around the eyes while relaxing the blood vessels. Using this treatment method require no particular expertise as it just requires a cold spoon held on the irritating region for a few minutes.
Puffy eyelids can be troubling, but you must not rub your eyes. After a long night with your eyes closed, fluids might have settled on the eyelids, thus the swelling. If you rub vigorously, you will not be doing any good to yourself, but instead aggravating the problem.
Besides cutting back on the amount of salt in your diet and reducing alcohol, it is important also to consult a physician. The doctor will prescribe the most appropriate treatment for your puffy eyelids. Remember, most of the puffy eyelid treatment techniques can be done at home as the problem isn't any severe.