10 Ways To Get Rid Of Head Congestion
Head congestion is one of the most common symptoms of the cold or flu but also one of the hardest to shake. If not properly addressed, head congestion can linger for weeks after other cold and flu symptoms have vanished, leaving you feeling spacey and uncomfortable. But just because it's so common doesn't mean it has to affect you.
With the following tips and tricks, you can effectively get rid of your head congestion fast or prevent it from progressing into something more serious, so you can get back to your regular routine and the things you love most. Try these 10 ways to get rid of head congestion and you'll be feeling better in no time.
1. Use Steam Or A Humidifier
One of the best ways to combat head congestion is to use the power of steam to loosen things up. Starting your day with a hot shower is an effective way of doing this and it doesn't require any special products or tools. If you find that the steam from your shower helps ease your symptoms, you can even take things a step further. If you need some quick relief from sinus pressure and congestion throughout the day, fill a bowl full of hot water and lean over it with a towel draped over your head and breath in the steam. You can intensify the effectiveness of this method by adding potent ingredients to the water, like apple cider vinegar, garlic or eucalyptus. Finally, to help you sleep soundly through the night, try employing the use or a humidifier or vaporisaattori, also known as a vaporizer. Placed beside your bed, a humidifier will help you breath easier during the night so you can get the sleep you need to fully recover.
2. Use a Neti Pot or Nasal Irrigation
Sometimes congestion can be so stubborn that even steam can't quite do the trick. If you find this to be the case, you may benefit form the use of a Neti Pot or a nasal irrigation syringe. Both of these tools work by using a saline solution poured or injected directly into the nostrils to break down mucus so you can breath better. Saline solution can be made by combining distilled or boiled water and salt and it takes no time at all. Though there have been few reports of amoebic infections from using a Neti Pot, simply ensure the water and tools you're using are sterile to avoid any complications.
3. Stay Hydrated
One of the cornerstones of health is proper hydration, so it's no wonder that it can help relieve undesirable head congestion. Getting plenty of liquids helps reduce nasal congestion by thinning out mucus and relieving sinus pressure and it's also one of the easiest things you can do. Shoot for 8 glasses of water a day and you'll be well on your way to feeling better. If water isn't your thing, try drinking herbal teas or fruit juices that contain important vitamins and nutrients that will also speed up your recovery. Avoid alcohol and caffeinated beverages as these will be counter productive to your recovery. Caffeine, for example, acts as a diuretic and pulls the water out of the body, making you even more dehydrated.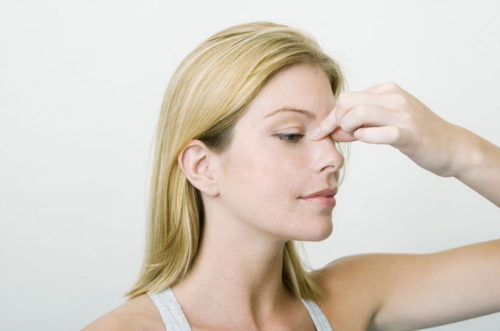 4. Take Vitamins, Minerals & Herbs
If you're already increasing your intake of fluids, you might as well use them to take your vitamins, too. You can try load of different types of food depending on the vitamins you need. Or if you would prefer to make things easier you could easily visit a website like TropicalOasis.com to help you find the vitamins that you need. When you're suffering from head congestion as the result of a cold or flu, your immune system has likely taken a beating. In order to build it back up and fight off the final symptoms, it's advised that you get your recommended daily intake of vitamins and minerals. Some that will help your immune system specifically are likely ones you've heard about before—Vitamin C and Zinc. These two are superstars when it comes to combating head colds and congestion and you'll feel the effects fast. If you're already taking both or they're incorporated into your daily vitamin, try the herb echinacea. It is renowned for its cold-fighting properties and will help speed up recovery. But before taking supplements, ensure that you're getting as many vitamins and minerals as possible through your diet. This means increasing your fruits and vegetables that are chalked full of essential nutrients. There are many different things that you could get for your body though if you are looking for supplements to improve your health. For example, if you get low iron levels you could take oral iron pills. However, not everyone can do this and some people get iron injected directly into their bloodstream. Although this works quicker it does create some other problems such as HPP after iron infusions. It might not happen to you but it is always something that you should bare in mind if you are thinking of having this done.
5. Eat Spicy Foods
If you've every eaten a hot pepper, you likely know the effects it can have on your sinuses, even if you weren't already suffering from congestion. Hot and spicy foods have a way of clearing out mucus and opening up your airways for increased oxygen and you can apply this very same effect to help relieve head congestion. Foods and drinks that cause serious heat include cayenne pepper, horseradish and wasabi. Even foods that are hot in temperature rather than spicy, like soups, can have this effect, too, and you'll find yourself reaching for the tissues soon after consuming them.
6. Use Acupressure & Facial Massage
While steam and spicy foods work to relieve congestion from the inside out, acupressure and facial massage can be used to help head congestion from the outside in. Using your fingers to activate certain pressure points on the face and neck can help manually release the pressure and drain sinuses. Areas on the face, like under the eyes, below your ears and under your cheekbones are keys areas to focus on and can help relieve congestion almost immediately. Using facial massage techniques can help move the congestion out of your head and drains lymph nodes that are swollen from residual infection from your cold or flu.
7. Sleep With You Head Elevated
If you find your head congestion becomes worse when lying down, you're not alone. In order to prevent congestion at night when it's usually at its worst, try sleeping with your up elevated. Propping yourself up with pillows can usually do the trick and it allows gravity to do its work to prevent the buildup of sinus pressure. Not only will you reduce your head congestion, but the reduced congestion will allow you to get a better nights sleep so you can speed up your recovery and get you back to feeling like yourself again.
8. Take Decongestants
Sometimes natural methods don't quite have the effectiveness to truly rid you of your head congestion. Especially in the cases of more serious congestion, you may want to consider taking a decongestant. Decongestants do just as their name says and they're specifically designed to provide relief. They're available at your local pharmacy or grocery store and can provide an almost immediate difference. Make sure to read the packaging before use, as some decongestants will have the side effect of making you feel drowsy.
9. Light Exercise
Though it may be the last thing you want to do when you're not feeling 100%, light exercise coupled with some of the previously mentioned remedies can actually have a profound effect on head congestion. Light to moderate exercise has the benefit of increasing oxygen, getting your blood pumping and moving lymph through your body. Be sure not to overdo it, though, as too much exercise can have the opposite effect. Keep your workout low-stress, like walking, biking or swimming, and be sure to stay properly hydrated if you begin to work up a sweat.
10. See Your Doctor
If all else fails, make an appointment to see your doctor or visit your local walk-in clinic, especially if your head congestions lasts for more than a few weeks. There, the doctors will be able to diagnose you and provide personalized approaches and recommend further treatment. If your doctor suspects and infection, they may even write you a prescription that you can pick up at your pharmacy to take at the recommended dosage.
Do's & Don'ts
DO use steam, nasal irrigation and facial massage to clear out congestion.
DO stay hydrated to keep mucus from hardening and causing congestion.
DO ensure you're getting enough vitamins. If you need an added boost, try supplements, like Vitamin C and Zinc.
DO exercise in moderation.
DO visit your doctors if head congestion doesn't clear up in a few weeks.
DON'T consume alcohol or caffeine as it will have a diuretic effect.
DON'T skip on the fruits and vegetables or spicy foods. Get as many as you can for optimal nutrition.
DON'T perform stressful exercises that will make symptoms worse. Get adequate rest to properly recover.
DON'T ignore symptoms. Treat head congestion as soon as possible to get sufficient relief.